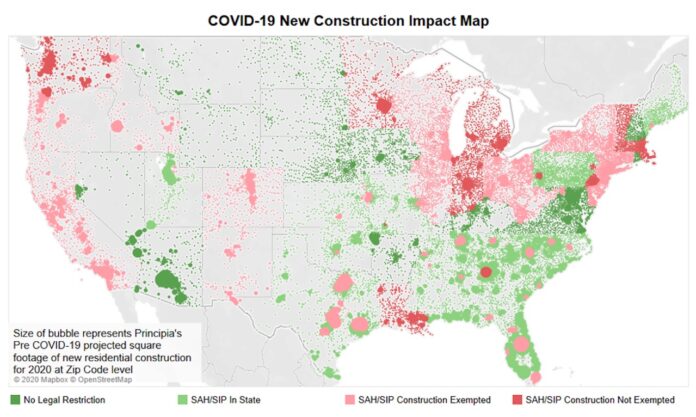 How is the COVID-19 Affecting Residential Construction?
Everyone is now wondering the same thing, how is the COVID-19 going to affect the residential construction industry? It would be nice to report that everything is sunshine and rainbows, but unfortunatley there are serious implications. With stay-at-home (SAH) and shelter-in-place (SIP) ordinances set in place, many businesses are finding it difficult to meet the demand of the market. In this article written by LBM Journal, they are giving us a better insight to what is currently being done to track this virus and analyse the impact on our industry. The map notes restrictions areas are facing, and the consulting firm plans to update its analysis as the situation evolves.
Malvern, Pennsylvania — Principia Consulting has initiated COVID-19 coverage to track and calibrate the impact of the coronavirus on residential construction down to the zip code level. In a recent update, Principia provided interactive views of the rapidly changing market for new home construction. Future updates will also include remodeling and repair and specific building product category impacts from the coronavirus. This analysis is fluid, Principia says, and will continue to evolve as COVID-19 progresses throughout the country and government restrictions are added or lifted.
Cities and states throughout the country are issuing stay-at-home (SAH) and shelter-in-place (SIP) ordinances specifying which businesses, including construction, are essential and non-essential. These ordinances are having an ongoing effect on construction activity and building products demand.